About Tri-State Flame
MISSION STATEMENT
Tri-State Flame Hardening Company is Detroit's premier flame hardening and straightening manufacturing company who only works to the highest standards and quality in material and workmanship so as to create customer satisfaction and loyalty to our services and brand name.
We are committed to the following management creed:
Sincerity
Sincerity brings credibility, self respect, and a clear conscience.
Innovation
Facing new demands by providing proven customer dedication combined with the very best material and workmanship.
Quality
Doing it right the first time. Pursuing the highest quality possible - Perfection.
Drive
Accepting any challenge with teamwork and dedication.
Tri-State Flame Hardening Company has been around since 1976. Our accumulated knowledge in all aspects of heat treatment and stress relieving offers our customers an unprecidented assurance of quality work, exceptionally short turn around, and at surprisingly competitive rates. The following is a short list of capital details: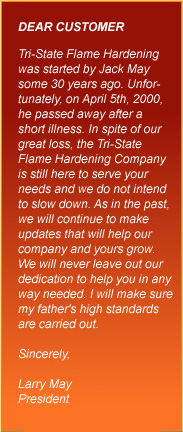 | | |
| --- | --- |
| Building Area | 6500 Square Feet |
| Transport | 1-1/2 Ton Flatbed |
| Oxygen Convertor | 35,000 cu ft Capacity |
| Fuel Tanks | 3,700 Gallons |
| Presses | 150, 75, and 30 Ton |
| Instrumentation | Clark |
| Tester | Rockwell |
| Lathe | 32 Inch Diamter |
| Magnetic Chuck | 40 Foot Length |
Our location is just south of Macomb Community College South Campus with easy access to I-696.